We use our own and third party cookies, for the analysis of user navigation. If you continue browsing, we consider that you accept the use.
You are in: home > Paint Tunnel
Paint Tunnel
The MOYVEN paint tunnel series has been designed following the criteria of versatility, modularity and efficiency.
The paint cabins are constructed in galvanized steel metal plate, riveted together and fitted with three filtering stages.
Paint cabin working is simple and easy. Centrifugal fans assembled on the roof create a depression which determines the forced circulation of air flow to transport the overspray to the filters:
The 1st filtering stage comprises folded sheets of fireproof cardboard that retains the pigments
The 2nd stage of filtering comprises glass fibre panels, these filter the finest particles.
The 3rd stage comprises carbon active filters which absorb and neutralize the volatile organic compounds.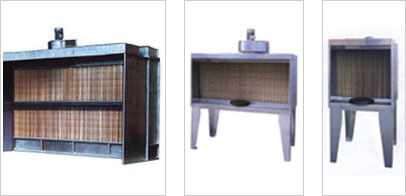 MOYVEN can offer tailor-made solutions for all your Paint Cabin needs
Several of our products are included in the Basque list of clean technologies, which has important fiscal benefits. Registered associations:

Developed by
Hispavista Empresas