We use our own and third party cookies, for the analysis of user navigation. If you continue browsing, we consider that you accept the use.
You are in: home > Industrial extraction
Industrial Extraction
Industrial extraction solutions offered by MOYVEN are wide-ranging, given that the different problems generated by contamination in the wide spectrum of industrial processes require different responses.
MOYVEN carries out industrial suction installations in the most diverse nature of sectors, covering all the contaminating processes of these industries:
Foundries
Cogeneration
Galvanitation
Iron and Steel
Biomass
Mechanization
Cement Industry
Waste Recycling
Metal Finishing
Quarries
Food
Paint
Chemical Industries
Glass
Etc.
For the application of Industrial Suction solutions, MOYVEN has a wide range of equipment and provides these industrial sectors with equipment varying from simple decontamination appliances to complex turn key installations.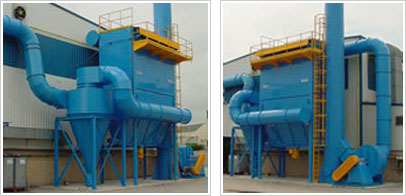 MOYVEN can offer tailor-made solutions for all your industrial suction needs.
Several of our products are included in the Basque list of clean technologies, which has important fiscal benefits. Registered associations:

Developed by
Hispavista Empresas