We use our own and third party cookies, for the analysis of user navigation. If you continue browsing, we consider that you accept the use.
You are in: home > Industrial Conduits
Industrial Conduits
Industrial conduits used in any operation for dust, fumes and general pollutant cleaning are the static elements that connect the entire purifying system: hoods, filters, fans, etc
Industrial conduits manufactured by MOYVEN have the following characteristics:
Manufactured in different materials:

Metal Plate
Polished sheet metal
Galvanized sheet metal
Stainless steel plate
Other metals

Manufactured in different thickness, from 1mm to 10mm
Conduits with diameters varying from 80mm to 2,000 mm
Joints for the different pipes either with flanges or gaskets
Inspection doors are fitted in each stretch
Industrial conduits with anti-wear elbows for abrasive particles
Industrial conduits can incorporate thermal insulation, as required, with exterior finishes in aluminium plate, aluminium zinc, stainless steel...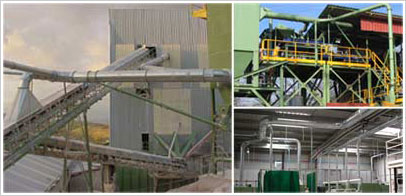 MOYVEN can offer tailor-made solutions for all your industrial conduit needs
Several of our products are included in the Basque list of clean technologies, which has important fiscal benefits. Registered associations:

Developed by
Hispavista Empresas