We use our own and third party cookies, for the analysis of user navigation. If you continue browsing, we consider that you accept the use.
You are in: home > Extractors > Extraction Hoods
Extraction Hoods
Pollutant Extraction hoods are by nature very different, and are based on the following classifications:
Fixed or mobile Extraction hoods. The latter are connected to the decontaminant installation by means of flexible pipes, articulated elbow pipes, telescopic pipes etc...
Simple or compound Extraction fans.
Enclosed Extraction hoods (cabin type) or open
Suction hoods or hoods fitted with an extraction- impulsion system
The Engineering Department at MOYVEN can design the most suitable solution for each pollutant area.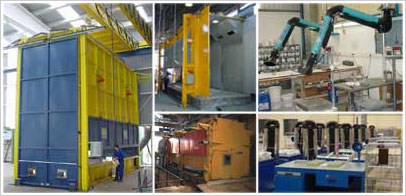 MOYVEN can offer tailor-made solutions for all your extraction hood needs
Several of our products are included in the Basque list of clean technologies, which has important fiscal benefits. Registered associations:

Developed by
Hispavista Empresas